In the interest of security, it is important to sign out of MyST when you have finished your session.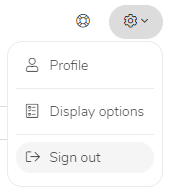 To sign out of MyST, access the config menu by clicking the cog in the upper-right, then click "Sign out".
Click "OK", when asked for confirmation.
You will be returned to the sign in page and will have been successfully signed out of MyST.