The following steps explain how to update your plugin to process payments in the live environment.
It is strongly recommended that you test your solution on your staging store before proceeding to accept live payments on your production store. Performing test transactions in the sandbox provides you with opportunities to identify and resolve problems in a safe environment and failure to do so presents risks to the ongoing reliability of your integration.
Settings
Please follow the instructions on the Getting started article to install the plugin on your production store. Once installed, you will also need to repeat the steps provided to configure the plugin, while also taking into account the following important exceptions described below:
Test Mode
Ensure this checkbox is unchecked to disable test mode.

Site Reference
You will need to provide your live site reference. If you are unsure what value to enter here, please contact our Support Team for assistance.
Please follow the instructions above carefully. Failure to do so will lead to transactions being processed in the test environment - no actual funds will change hands.
Select "Save Settings" at the bottom of the page when done to confirm your settings.
Live testing
Once you have switched to your live site reference, we recommend that you test this by performing a transaction using a live card, to ensure it is processed successfully.
You can verify that the configuration is no longer running in test mode by checking the following places:
---
Navigate to WooCommerce > Settings, click the Payments tab, then click either "Trust Payments - Credit/Debit cards (via hosted checkout)" or "Trust Payments - Credit/Debit cards (via API)", depending on your chosen integration method. The box "Test Mode Enabled" (as shown below) should no longer be visible:

---
If you are processing e-commerce transactions via the API, the checkout will no longer display "Payment Test Mode Enabled" at the top.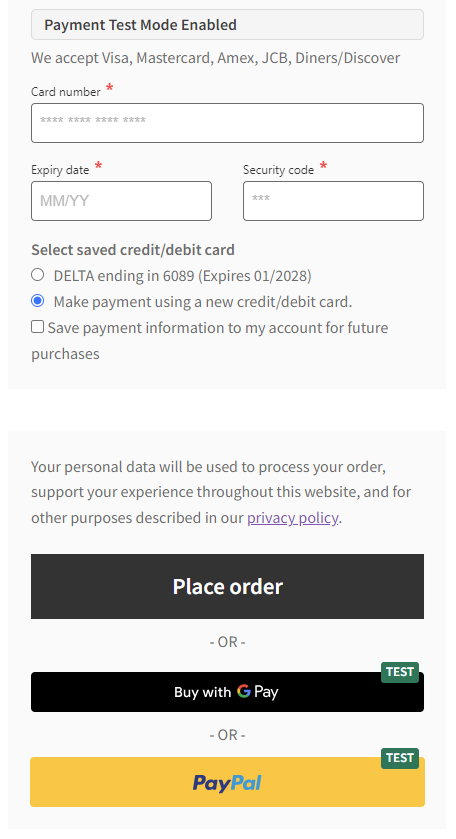 Please check the order was successful by navigating to WooCommerce > Orders and checking the Status is "Processing". If not, this could indicate an issue with the Webservices details entered in the settings and/or that URL notifications have not been enabled.
After you have processed live transactions, you can cancel pending orders from within the WooCommerce admin interface to prevent funds from being settled.
You should not use the same live card too many times, as the requests may still be authorised, and could cause the issuer to suspect fraud or the cardholder could exceed their limit.
You're all set!
We recommend that you sign in to MyST, our transaction-management portal, and check your transactions regularly to ensure payments are being processed successfully. If you need assistance, please contact our Support Team.