If you are having problems when using the printing functionality provided in MyST, please review the following troubleshooting tips:
Supported browsers
Please ensure you are using a supported web browser:
Firefox
Chrome
Safari for Mac
Edge
Internet Explorer 11
Note: We currently do not support printing from iOS and Android devices.
Your browser must have JavaScript enabled.
Internet Explorer
Please ensure you are using Internet Explorer version 11, and have installed the latest security patches.
If you are having problems with the headers and/or footers
You will need to disable Internet Explorer's built-in headers and footers, as these will overlap those provided by MyST:
1. Click the cog in the upper-right of the browser, and then click "Print" > "Page setup…" from the menu.
2. Under the "Headers and Footers" section, ensure all the drop-down fields have been set to "-Empty-".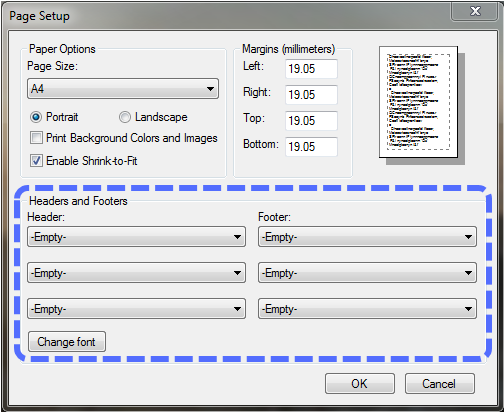 3. Click "OK" and restart your browser.