On OmniPay RAM, navigate to Reports > Funding > Daily Funding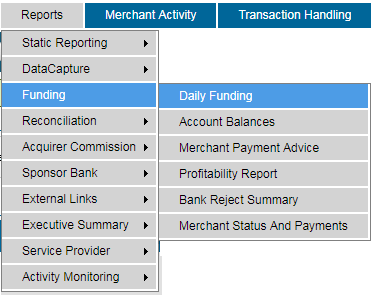 Input your MID number into the search box directly under the navigation panel and click Change.
Set the date range when you processed transactions and want to see the data for.
If you are on a Daily cycle, you should check one day at a time whilst if on a weekly cycle you should check a date range from Tuesday to Monday.

Once you've clicked on the Search button, all the processing done for the given date range will appear.
At the bottom of the page will be the Actual Payment field – click on the link.

By looking at the Funding Date of the next page you can see when the payment was schedule to be released by the OmniPay system. Kindly note that payments are made out by TRU Acquiring the following day (in the example below, payment instruction is sent to the bank on 24/07/2018)

The Payment Status section will indicate whether the payment has been released from OmniPay (i.e. payment made out by TRU Acquiring) or whether it is still being held within the system
Please note that payments, even though released, may still take a few days to reach your bank account