Navigating the tabs
At the top of the page, you can click the tabs shown to quickly navigate between the different views:
Processing - View graphs and statistics regarding recent crypto transactions, including key performance indicators such as approval rates.
Risk - Monitor risk by reviewing the rates of suspected fraud and the number of chargebacks processed against your account.
Relative - Benchmark your performance against other merchants processing with Trust Payments.
Menu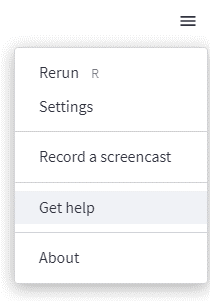 Click the icon in the top right to access the following settings:
Rerun - This will refresh the data shown within CryptoMetrix with the latest data available.
Record a screencast - Make a screen recording of your display.
Get help - Opens the Help Centre in another tab in your browser.
About - Displays information regarding the version of the platform you are using.
Session info
In the top-right of the page, near the "Logout" button, the following information is displayed:
Last data - CryptoMetrix is updated every morning with new information from the previous day to generate the graphs displayed. The date shown here is the last full day of transactions covered by the charts. (Data that is more recent than the date shown is not factored into the charts)
Logged in as - Shows the username of the user logged in.
Full-screen
Any charts or graphs displayed in CryptoMetrix can be expanded to a full-screen view by clicking the
icon.
Tooltips
The CryptoMetrix application will often reveal further details if you use your cursor to hover over the visuals displayed. Alternatively, you can achieve the same outcome on mobile by tapping the visuals instead. In the example shown below, hovering the cursor over a data point on the graph causes a tooltip to appear displaying the associated amount.

Print page as PDF
Every page viewed in CryptoMetrix can be downloaded in PDF format. Click the "Print page as PDF" button found at the bottom of the page and ensure the settings shown are set to print the output as a PDF.
Log out
Click the "Logout" button in the top-right (just below the tabs) to log out of CryptoMetrix.